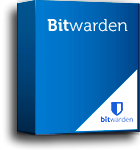 Bitwarden
The password manager trusted by millions
Why try & buy?
Bitwarden helps you generate, save, and manage your logins safely and securely. You can also share secure information easily with others in your organization.
Bitwarden gives you power to create and manage unique passwords, so you can strengthen privacy and boost productivity online from any device or location.
Product description:
Bitwarden helps businesses run quickly and securely and offers everything you need out of a password manager.


Easy
Powerful security within minutes. For those who want to do more, secure more, and collaborate more, Bitwarden is fast and easy to set up for both individuals and businesses.


Convenient
Unlimited passwords, unlimited devices. Cross platform access for mobile, browser, and desktop apps. Supported in over 50 languages.


Protec what's important to you
Zero knowledge, end-to-end encryption guides the Bitwarden open source approach to trust, accountability, and security.
Password Manager (1st of 1 themes)
What can it do for you?
At home, at work, or on the go, Bitwarden easily secures all your passwords and sensitive information.
Description:
Bitwarden Secures your business and boosts productivity. Trusted password management that scales with your business.


Ensure productivity
Quickly enable your team to share passwords among colleagues easily and securely.


Reduce cybersecurity
Establish a first line of defense against data breaches by enforcing strong password policies for employees.


Integrate seamlessly
Integrate Bitwarden with your existing enterprise environment such as SSO and directory services.


Empower your employees at home
Give the extra perk of security to your employees and their loved ones with complimentary Bitwarden Families plans.


Unparalleled SSO

Integration and Flexibility
Quickly and easily safeguard all business logins using your Single Sign-On security policies. Fully compatible with SAML 2.0 and OIDC, Bitwarden ensures smooth integration with your existing solutions.