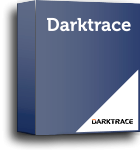 Darktrace
Autonomous Cyber AI
Why try & buy?
Darktrace is world leader in Autonomous Cyber AI. Darktrace AI interrupts in-progress cyber-attacks in seconds, including ransomware, email phishing, and threats to cloud environments and critical infrastructure. Join over 6,800 organizations worldwide that rely on a digital immune system to avoid cyber disruptions, without impacting regular business operations.
Product description:

The Enterprise Immune System
The Enterprise Immune System learns normal 'patterns of life' to discover unpredictable cyber-threats, while delivering complete visibility across your dynamic workforce — from cloud and collaboration tools to endpoints and the corporate network.

Detects the unpredictable
Leverages Self-Learning AI to spot novel attacks and insider threats.


Learns 'on the job'
Understands the DNA of your business as it evolves, learning and adapting continuously.


Provides pervasive coverage
Correlates insights across multiple silos via an open and extensible architecture.
Intelligence Augmentation (1st of 4 themes)
What can it do for you?
Augments and uplifts your security team.
Description:
Human security teams often lack the resources to conduct full investigations into incidents, leading to important facets of attacks being overlooked. Intelligence Augmentation dramatically extends the reach and efficiency of in-demand and time-pressed cyber experts.
Attack Path Modeling (2nd of 4 themes)
What can it do for you?
Provides cross-domain, end-to-end attack path modeling technology.
Description:
It gives a comprehensive view of risk-prioritized attack paths, unique to your business – allowing resources and attention to be appropriately allocated to help best defend your most critical assets.
Self-Learning AI (3rd of 4 themes)
What can it do for you?
Self-Learning AI learns your business from the ground up to stop cyber disruption.
Description:
While conventional AI techniques rely on pre-labelled data sets and prior knowledge, Self-Learning AI learns 'on the job' from real-world data and constantly adapts.
Autonomous Response (4th of 4 themes)
What can it do for you?
When attackers strike, Autonomous Response fights back on your behalf.
Description:
Fast-moving cyber-attacks like ransomware can strike at any time, and security teams are often unable to react quickly enough. Autonomous Response uses Darktrace's understanding of 'self' to take targeted action to stop in-progress attacks, without disrupting your business.