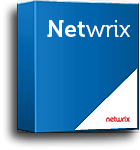 Netwrix Auditor for Nutanix Files
Complete visibility into what's going on across your Nutanix Files environment
Manufacturer :
Netwrix
Infrastructure: Nutanix
Why try & buy?
Avoid breaches, prove compliance and ensure uninterrupted access to business-critical data.Without third-party tools, your organization's chances of protecting the sensitive data it stores are extremely low and it won't be easy to demonstrate clear evidence of your compliance to auditors. With this software you can easily build a cohesive data protection and compliance strategy while saving yourself hours of manual work.
Product description:
Netwrix Auditor for Nutanix Files (formerly known as Nutanix AFS) delivers actionable intelligence about what's happening across Nutanix file servers. Get detailed information about changes to files, folders, shares and permissions; file reads; user permissions; file server space and usage; and the sensitive data you store (in conjunction with Netwrix Data Classification), so you can reduce the risk of data leaks, ensure compliance and minimize business disruptions.
Change Auditing (1st of 1 themes)
What can it do for you?
Netwrix Auditor for Nutanix Files empowers you to reduce the exposure of sensitive data and detect suspicious user behavior and policy violations before they result in data leaks or business disruptions. Plus, its ready-to-use intelligence enables you to automate many of the compliance and security-related tasks that until now required hours to complete so you can meet the demands of your organization without constantly being overburdened.
Features:

Deep insight into changes
Helps you identify actions that might threaten business-critical data by delivering information about changes to files, folders, shares and permissions, including the who, what, when and where details.
Nutanix read access auditing
Reports on who viewed which files across your Nutanix file servers so you can ensure that no unauthorized or suspicious access to critical information goes unnoticed.
Visibility into user permissions
Shows who has access to what data and enables you to spot overexposed data. You can also compare the current state of permissions to any moment in the past.
Alerts on threat patterns
Keeps you informed about the user activity you deem most critical, whether it's massive removal of data from file server virtual machines or changes to user permissions.
File analysis reports
Provides details about data ownership, data usage and data volumes, and locates stale and duplicate files, so you can optimize space on your Nutanix file servers and improve your data management processes.
Data classification reports
Empower you to protect sensitive data by showing the types of confidential information you have, where it's located and who has access to it. The reports work only in conjunction with Netwrix Data Classification.