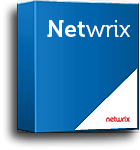 Netwrix Auditor for NetApp
Complete visibility into changes, data access and data usage on NetApp Filers
Manufacturer :
Netwrix
Infrastructure: NetApp filers
Why try & buy?
Netwrix Auditor enables NetApp reporting and ongoing monitoring of changes and data access on NetApp filers, supporting all the latest versions of clustered Data ONTAP operating system. With more visibility into what's going on in NetApp filer storage, you can pass compliance audits with less effort; address auditors' questions; and solidify data security across your organization. With separate applications, Netwrix Auditor also supports auditing of EMC storage and Windows-based file servers.
Product description:
Netwrix Auditor for NetApp provides complete visibility into everything going on in your file storage. The application delivers granular audit data with deep insights into changes to files, folders, shares and permissions, and it reports on both successful and failed access attempts.
Change Auditing (1st of 1 themes)
What can it do for you?
Netwrix Auditor for NetApp tells you who, what, when and where details for all changes, easily saving you hours of investigative work tracking down who made a specific change.
Features:
File analysis reports
Provides actionable details on data ownership; reports on data usage and data volumes; and identifies stale and duplicate files.
Complete visibility into every change
Delivers human-readable information on who changed what and when and where each change was made in NetApp filers.
Deep insights on access permissions and access attempts
Delivers detailed reports on attempts (both failed and successful) to modify or access files, helping ensure data security on NetApp storage.
Clear audit reports and dashboards
Supplies predefined, customizable reports and dashboards with data in a human-readable format. E-mail subscription and export options ensure data is available to anyone who needs it.

Compliance reporting with less effort
Includes predefined reports mapped to specific compliance standards, including PCI DSS 3.0, HIPAA, SOX, FISMA/NIST800-53 and ISO/IEC 27001.

Agentless mode of operation
Doesn't get in the way of system processes and performance, ensuring the seamless flow of operations.