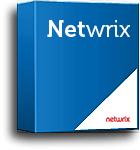 Netwrix Auditor for EMC
Complete visibility into changes, data access and data usage in EMC Storage
Manufacturer :
Netwrix
Infrastructure: EMC Storage
Why try & buy?
More and more enterprises rely on EMC storage solutions to store large volumes of data. To protect this data from leaks and comply with industry and government regulations, organizations must audit their file storage devices. Netwrix Auditor for EMC simplifies EMC storage auditing and reporting and thereby helps organizations keep their sensitive data safe from unauthorized access or changes.
Product description:
Netwrix Auditor for EMC audits EMC Isilon, VNX, VNXe and Celerra storage devices to help enterprises strengthen data security, streamline compliance and increase operational efficiency. It enables complete visibility into storage environment by tracking all changes to files, folders, shares and permissions; reporting on data access attempts; and revealing data usage and data ownership patterns.
Change Auditing (1st of 1 themes)
What can it do for you?
Netwrix Auditor for EMC helps to track down changes. It gives you the peace of mind to look back and see that there have been no critical changes to your sensitive data.
Features:
Full information about every change
Delivers key details about every change on your EMC storage devices. Easily determine when any given change was made, who made it, and what exactly was changed, including the current and past values.
Complete visibility into actual data access
Reports on both failed and successful attempts to read or modify sensitive files across all EMC file shares.
File analysis reports
Provides valuable insight into data usage and data ownership, and identifies duplicate files and stale data.
Detailed audit reports and dashboards
Includes predefined EMC reports and dashboards that are easy for all stakeholders to use. Users can filter, sort and export the audit data, and even subscribe to reports.
Easy compliance reporting
Makes it easy to prove your compliance by providing hard data in predefined reports aligned to standards such as PCI DSS 3.0, HIPAA, SOX, FISMA/NIST800-53 and ISO/IEC 27001.
Agentless collection of audit data
Operates without installing agents. This method of data collection does not interfere with system processes or performance.