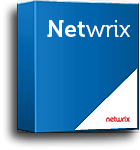 Netwrix Auditor for Exchange
Complete visibility into changes on Microsoft Exchange server
Manufacturer :
Netwrix
Infrastructure: Exchange
Why try & buy?
Auditing Exchange Server is essential for maintaining the security of data in email, proving compliance with internal policies or external regulations, and ensuring ongoing email availability. Netwrix Auditor for Exchange overcomes the limitations of native Exchange logs by simplifying auditing and reporting on changes made to your Exchange infrastructure and eliminating the need for time-consuming manual scripting and data consolidation.
Product description:
Netwrix Auditor for Exchange delivers complete visibility into your Microsoft Exchange infrastructure by monitoring all changes made to Exchange server configuration, Exchange databases, mailboxes, mailbox delegation, and permissions, including changes to public folder permissions. Additionally, it reports on events in which someone gains access to another user's mailbox.
Change Auditing (1st of 1 themes)
What can it do for you?
Netwrix Auditor provides you, in one place and in a readable format, all the auditing reports your Exchange administrators want.
Features:
Full details about every change
Delivers detailed information about all changes across the Exchange environment. You can easily identify when each change occurred, who made it, and what exactly was changed, including the current and past values.
Non-owner mailbox access monitoring
Reports to IT staff and mailbox owners about non-owner access to specified mailboxes. You can see who accessed what mailbox, when and from which workstation the access occurred, and what items the user viewed, edited or deleted.
Easy-to-read reports and dashboards
Supplies audit data to anyone who needs it in a human-readable format. Predefined reports and dashboards are easy to customize using built-in filtering and sorting. Export and subscription options simplify putting information in the right hands.
Smooth compliance reporting
Makes it easy to prove your compliance with hard data by providing out-of-the-box reports mapped to specific regulatory compliance standards, including PCI DSS 3.0, HIPAA, SOX, FISMA/NIST800-53 and ISO/IEC 27001.
Agentless operation
Collects audit data without using agents, so it does not disrupt operating system functions.