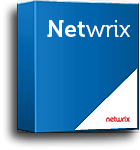 Netwrix Auditor for Windows File Servers
Complete visibility into changes, data access and data usage
Manufacturer :
Netwrix
Infrastructure: Windows File Servers
Why try & buy?
To comply with external regulations and ensure business continuity, you must audit your file servers to secure sensitive data against leaks and unauthorized modifications. Netwrix Auditor for Windows File Servers automates file server auditing and reporting, thereby mitigating the risk of compliance failures, data breaches and availability problems.
Product description:
Netwrix Auditor for Windows File Servers delivers complete visibility into everything happening on your file servers. It provides actionable audit data about all changes made to files, folders, shares and permissions; reports on both successful and failed access attempts; and enables file analysis reporting for improved data security and information management.
Change Auditing (1st of 1 themes)
What can it do for you?
If you need a way to audit data and files related to police evidence, than Netwrix Auditor gives you the ability to provide an audit trail of any file activity and ensures sensitive data is protected.
Features:
File analysis reports
Delivers detailed information on overexposed data and data ownership; reveals data usage and data volumes; and identifies stale and duplicate files.
Deep insight into every change
Makes it easy to determine who made a change, when the change occurred, and what exactly was changed, including the before and after values — across all your Windows-based file servers.
Complete information about access permissions and access attempts
Shows effective permissions by user and by object, and reports on file access attempts (both failed and successful) across multiple file servers and shares.
Easy comparisons of current and past configurations
Enables you to quickly compare the current state of file systems and permissions with a snapshot from any point in the past.
Streamlined compliance reporting
Provides out-of-the-box reports mapped to common regulatory compliance standards, including PCI DSS 3.0, HIPAA, SOX, FISMA/NIST800-53 and ISO/IEC 27001.
Agentless operation
Collects audit data without the use of agents, so it does not interfere with system processes and performance or cause any system downtime.