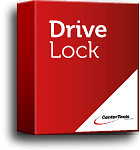 DriveLock Device Scanner (freeware)
Scant uw netwerk op devices
Fabrikant :
DriveLock
Infrastructuur: Windows
Waarom "try & buy"?
Freeware. Een met DriveLock Device Scannner te maken inventarisatielijst van devices en drives kan u helpen bij het selecteren en whitelisten van specifieke devices als zijnde "geautoriseerd" voor specifieke gebruikers(groepen).

DriveLock Device Scanner resultaten kunnen eenvoudig worden gebruikt om een DriveLock policy in DriveLock Standard te maken dat gebruik van sommige van deze devices of drives toestaat.
Productbeschrijving:
DriveLock Device Scanner is een standalone versie, en vereist geen installatie.

DriveLock Device Scanner maakt een inventarisatie van all devices en drives die historisch of momenteel met de computers in het netwerk zijn verbonden.
Om deze na gebruik volledig van uw computer te verwijderen, delete u de program file.
Device scanning (1e van 1 thema's)
Wat kan het voor u doen?
Met DriveLock Device Scanner kunt u specifieke computers in uw gehele netwerk laten scannen op verwijderbare drives en devices die momenteel met deze computers zijn verbonden, of drives en devices die (onlangs) zijn gebruikt.
Functionaliteiten:
U kunt de standalone versie downloaden en vanaf uw computer starten.