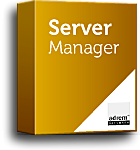 Server Manager
NetWare and OES Linux management, monitoring & maintenance tool
Manufacturer :
AdRem
Infrastructure: Linux, NetWare
Why try & buy?
Even if you still run NetWare, migrate or successfully use Linux, run Server Manager to control them all. For a small investement of 500 Euro or less per NetWare / OES Linux server, you get a lot of functionality.
Server Manager presents opportunities for increasing revenue, reducing costs of IT and rapid ROI. The unique feature of the product is the ability to support existing NetWare servers and new OES Linux environment. It provides administrators with unified interface to administer and troubleshoot both systems, identifying problems much faster and applying configuration changes on multiple devices at once.


Server Manager becomes a necessary solution during migration process, when large number of files and data are moved to new OES Linux servers and there is a need to keep an eye on them and proactively monitor behavior of new environment.
As such, this solution is relevant to your organization if you are confronted with any of the following challenges:
Use both Novel Netware and OES Linux servers

Need quick access to different NetWare and OES Linux version to identify the problems

Need for improving the productivity of both Netware and OES Linux

Plan to migrate your NetWare Servers to OES Linux

Pressure to reduce time on management operations
Product description:
Rapid Problem Identification
Server Manager gives you an insight into status of your servers. Use connections and open files views to find out how server is utilized by users. Watch real-time performance statistics and diagnose problems immediately.

Easy Disk Management
Regardles of platform NetWare or OES/Linux - disk management can't be easier. Use Server Manager to watch disk statistics, manage and backup file attributes and trustee rights.

Multiserver Management
Tired with routine server tasks? Run Server Manager to change server configuration or distribute commands and software to multiple server automatically. You do not have to use different programs to manage NetWare and OES Linux.
Management of NetWare & OES Linux (1st of 1 themes)
What can it do for you?
AdRem Server Manager is a management tool for NetWare and OES Linux servers. With AdRem Server Manager you can monitor multiple servers running different NetWare and OES Linux OS versions.
Features:
Instant Access to Server Status
Global view of current performance across multiple servers; performance charts; detailed statistics on open files, connections, and loaded NLMs.
Advanced Disk Management
Manage files, directories, volumes, and trustee rights; generate detailed reports on server file system; set volume space usage restrictions; quickly search files.
Multiple Server Operations
Coordinate and automate multiple server tasks using powerful distribution and task scheduling capabilities; compare stored configurations.
Long-term Performance Trend Analysis and Reporting
Collect performance data, view long-term trends, create multi-chart performance reports; generate sever configuration and file system reports.
Server Configuration Management
View, store, and modify server SET parameters and configuration files; perform advanced log analysis; export and print configuration templates.
Backward NetWare Compatibility and More...
Compatibility with all versions of NetWare and Novell OES; WAN optimization; built-in remote console; protocol independence.